"It all began when I was very young, maybe in 5th or 6th grade, we had a general store and right in front of it was another store, where these 2 uncles used to sit and do some embroidery on butter paper. I was too fascinated looking at it and I used to go home and doodle something trying out these designs."
Komal Kishor Khot shares her captivating journey of becoming a mehendi artist.
Growing up, most of us ladies, have been spellbound with the entire concept of mehendi on our hands. Something so cool artistically drawn on our palms, that would stay for days and would smell and have color to it, made us feel on top of the world! Also, we all know the importance of mehendi during an Indian wedding. But have we taken a moment to think about mehendi artists? What inspired them? How did their journey begin? And what has been their daily dose of motivation. Komal says that she was obsessed with the mehendi cone. "After my 10th board exams I joined classes which was in a parlor." Although they did not prove to be useful to her yet, she set a path for her passion and to fulfill her dream. "My interest began decreasing during those classes. My college started and later I did a proper course from a Muslim lady who stays in my area. She was really good at mehendi and I did a full course from her, I started taking orders side by side. So initially I didn't know the scope we had in mehendi because it is very stereotypical."
While she began studying she started her mehendi journey as well. She used to earn well and she did not even have to ask her parents for money. "With an ultimate response and followers on Instagram, I became a full time mehendi artist." Inspiration can be gained anywhere and everywhere, Komal received her inspiration from the artists around her and then she realized that there is a lot of scope in becoming a mehendi artist.
"My clients who are supportive and creatively inclined, helping and advising me about different designs resulted in being my motivation. My followers who keep loving me, the comments on my posts, the messages I get keeps me motivated throughout."
The key to life is accepting challenges. Once someone stops doing this, he is dead. Komal says that she faces obstacles that come her way through her journey and one of them is the entire concept of being compared to someone else. As there are so many mehendi artists, this paves an easy way for the devilish aspect of comparison to creep through. "It becomes very important to be extremely creative with every bride and every design. The client is also very important, again word of mouth. One should not complain about it. This is extremely challenging. We have to deal with so many people and with so many wants, that is a challenge we as mehendi artists face." Komal started her Instagram page in September, 2016. It has been four years and she says that initially she went through a burdensome struggle, until she reached 10,000 followers.
"It took a lot of time, I used to share pictures everyday that's it. I started gaining a good number of likes, people started following me. But they still feel that I have paid for those followers. They think about, "who actually follows a mehendi artist?" I encountered some questions like, are my followers organic, do I run ads? There's nothing wrong in running ads. Such questions bothered me during my initial stages.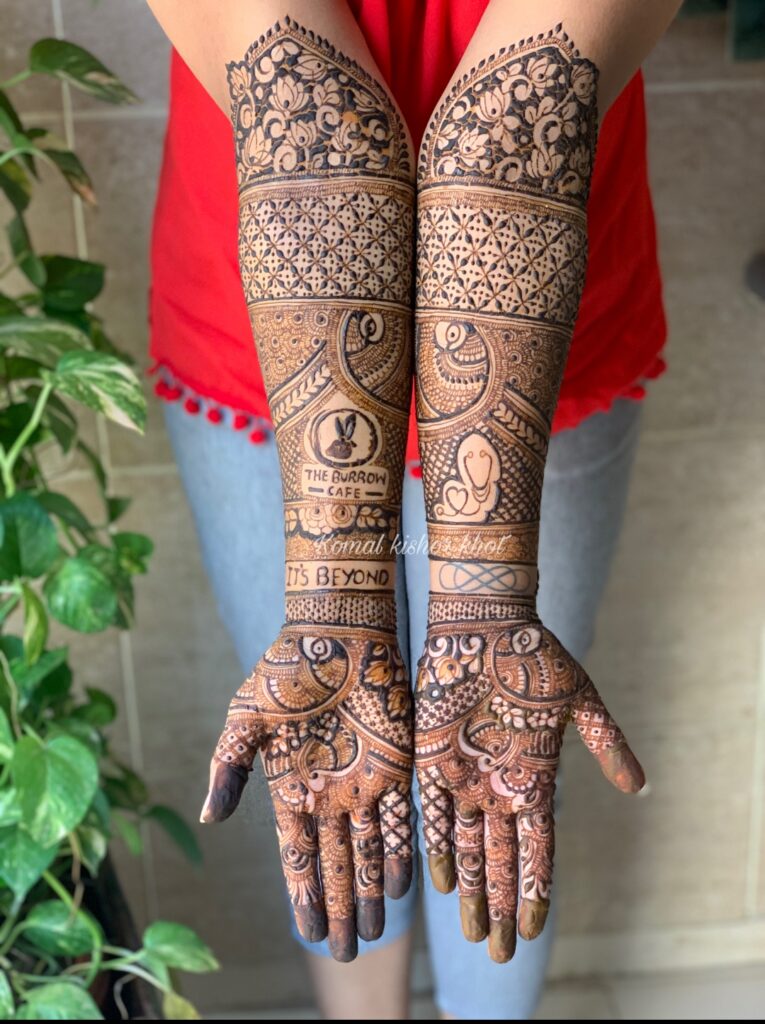 Komal also stood at the doorway of some queries that questioned her career choice. She left her journey as a CS(Company secretary) to become a mehendi artist. Thus, people interrogated her and, she didn't gain substantial support from her family as well. Also, a stereotypical mindset of mehendi and its disadvantages were some aspects that made its way to Komal's mind. However, she pushed through because she knew what she wanted to do and she did it. Today, her parents are very proud of their creative daughter.
Komal shares one incident with us that proves how a mehendi artist is not set on a pedestal because of the stereotypical mindset of our society. Once her father's friend had visited them and he asked her about her present and future plans. She immediately replied saying that she is into mehendi. With a surprising tone in his voice, he asked her if it was only about mehendi, and nothing else. She said yes and then he "advised" her to take up a parlor course as it would be helpful. "What they don't understand is that there is a difference between a beautician and a mehendi artist. They usually compare that and I hate it. I did not reply, I just said ok uncle I will do it because, after a point of time you become habitual to it, as people are there to judge you. I just ignore such comments now, let people talk and let your work speak."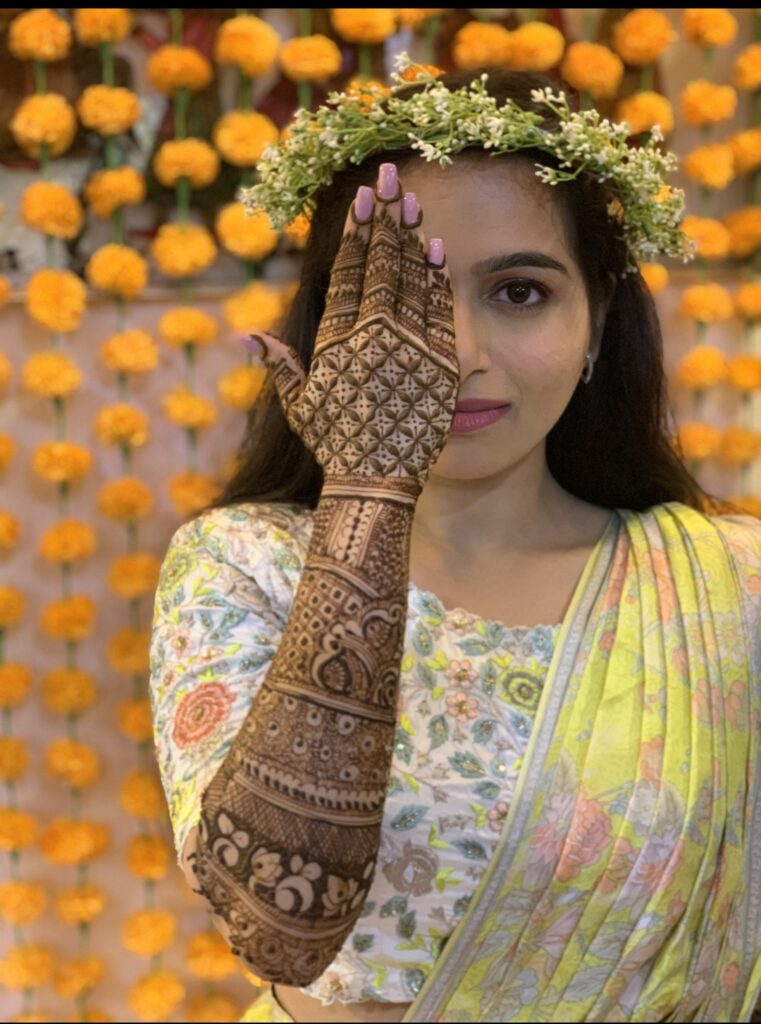 "My advice is to stay focused and whatever you choose, make sure it comes from your heart. Take it up whole heartedly. Do not leave it because there are difficulties."
Especially for an artist, many a times there is no work and you feel like quitting, but don't. "Have patience, that's the key. It took me 4 years to be in this place. I did not lose hope and I knew my work will be recognized. Do not run behind money. Love your work, obviously money will follow you. Be true to your work and to yourself."
-Tabitha Kumar
Team MOGG'S would personally like to thank Ms.Komal for sharing her journey with us.
If you like our stories, do share and follow us @MOGGSCoffeeconversations on Facebook and Instagram.
Have a story to share? Write us to stories@moggs.in