Bangalore, the Garden city, the City of Dreams and much more. Kruthika Suresh, a 23-year-old Bangalorean shares her love for the city and for the language, Kannada.
"When you ask a migrant why they love this city, they are going to start off by saying "Oh my God, Bangalore has so many IT opportunities, Bangalore has so many pubs, Bangalore has multi- cultural diversity" and so on. But when you ask me, a person who's living here since her birth, I would first start by saying, "Nodu guru it's not Bangalore! It's Bengaluru." And trust me it hits differently when you say Namma Bengaluru or NammOoru." Well, Kruthika has clearly made her point of how to actually pronounce the word, "Bengaluru." Next time you think of the city, please keep in mind Kruthika's right way of pronunciation.
Sometimes, people tend to feel embarrassed about their own mother tongue, their own language. But, when you hear people speak in different languages, in your own city and you are nowhere to be heard, trust me! It hits you hard. "You know growing up, watching Kannada movies and listening to Kannada music, watching Kannada news and reading Kannada books was such a low class thing to do. I mean come on, who watches Chandana TV when you have NDTV news right? And then I went to college, I was 18 years old and I had students in my class who were from across the country. That's when it hit me, itpinched me that I felt so overpowered by other cultures that I thought, dude our Kannada culture is not here at all. That's when I realized that my house was just 5 kilometers away from my college and how the culture was so different between such a short distance."
Kruthika is now pursuing her post-graduation and she says that till date it is the same scenario when it comes to her class. Her class is filled with migrants. Out of 60 students, there are probably only 3 students who are localites. She hears some of her classmates complain a lot about her city, it pricks her like a thorn going right into her flesh. "You know sometimes I look at them and say, you should just go back to where you came from. I have said that, honestly."
Bengaluru is a crazy city! There is nothing that you don't really find here. Kruthika says it herself. "My city has so much to offer. It has amazing food, amazing parks, amazing people, amazing pubs, amazing art. It has almost everything." Food is something that makes Bengaluru unique. From masala dosa that is Bengaluru's top dish to American burgers, momos and so on, you want it, you have it!
"Cozy mornings, sunny afternoons, rainy evenings and cold nights." Bengaluru's weather draws migrants and tourists to the city. The city is known for its beautiful weather. "When it is raining in the evening and you have that beautiful cup of filter coffee with you, and just a little bajji to eat, I think it's the best feeling ever." People of Bengaluru are extremely accommodating. But there is one thing that they hate and that is, "Kannada gottilla." Also saying that Bengaluru improved because of outsiders, no that is definitely not true.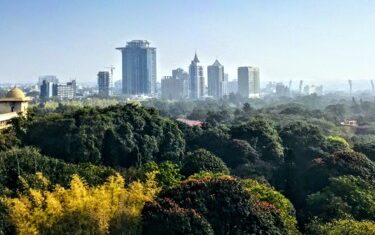 "Someone once had told me if you can live in Bengaluru, you can live anywhere else. But, I realized that after living in Bengaluru I cannot live anywhere else. If there is any city I want to live in or die in that is going to be, NammOoru, Bengaluru."
"Things that will always stay close to my heart- Bengaluru people, Bengaluru weather and Bengaluru coffee! I will stop by saying Huttidare Kannada Nadalli Huttabeku."
Well Kruthika is very patriotic towards her city and her language. It is extremely necessary to love your land and your language. Your roots make you who you are. Appreciate it, Love it, Be Proud of it.

-Tabitha Kumar