"It was back then in 2015, when I was in my final year BCA. College life was coming to an end and I couldn't believe that three years had just passed by in a jiffy. It hit us hard when we were at the end of the final semester, we started to feel a sense of responsibility and the whole question of, "what next?" started to haunt us."
Poornima Pradeep shares her journey with us of how just one idea creates a revolution for her and for many.
When students reach the final year, they start to experience campus interviews and everyone is on a race to be able to get into the best companies in the country. However, Poornima says that she always wanted to do something on her own. "I have always been a last bencher, that is how I happen to meet this amazing person in my life- Anusha."It's funny that I just said something good about her. Well, yeah she is my best friend, though I initially found her to be arrogant."Poornima says that although they were very different from each other, they shared the same mindset. "We both would sit in the last bench, royally dreaming about the thing that unites us and that was our passion for event management." They would attend different events together. "We would have such serious conversations even in marriages that we would forget everything else, even the hot guys around."Although Poornima and Anusha did not have much knowledge about organizing events, they were determined to start their own event management company. However, Poornima says that life had a different plan for them.
"So, after college I don't know how I landed up as a HR recruiter in Allegis and, Anusha ended up working at Mphasis." Though I had a good working atmosphere, something within me said that, "this is not where I belong." There were days when I felt helpless and demotivated. That's when this girl Ujwalla came into my life, she and I got close to each other." It's always a blessing to have an encouraging friend in your life. Someone who motivates, encourages and tries to help you fulfill your dream. Ujwalla was one such person in Poornima's life.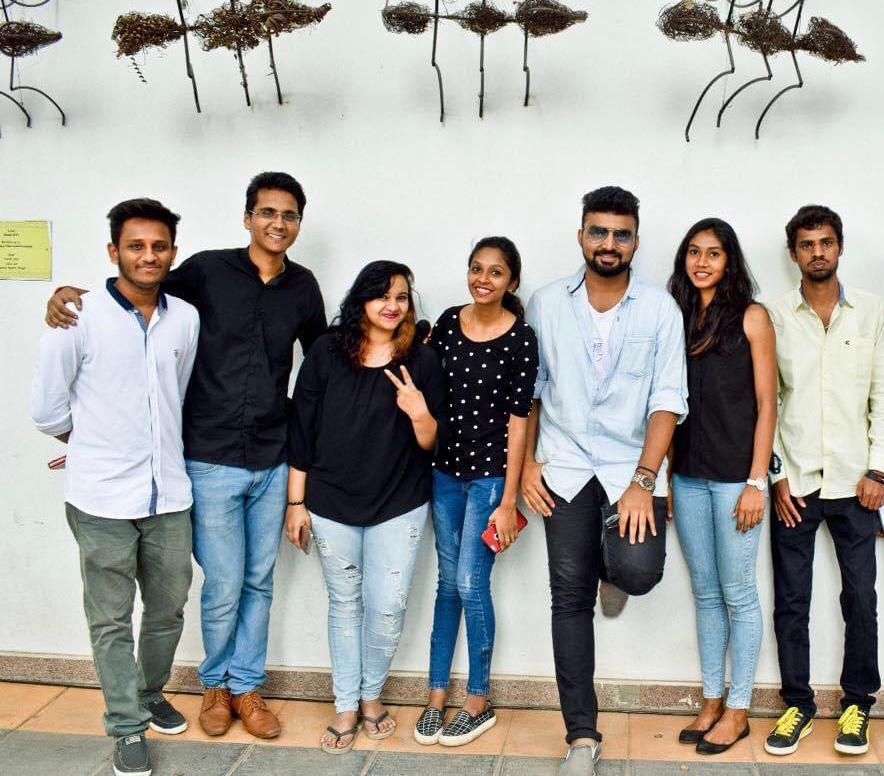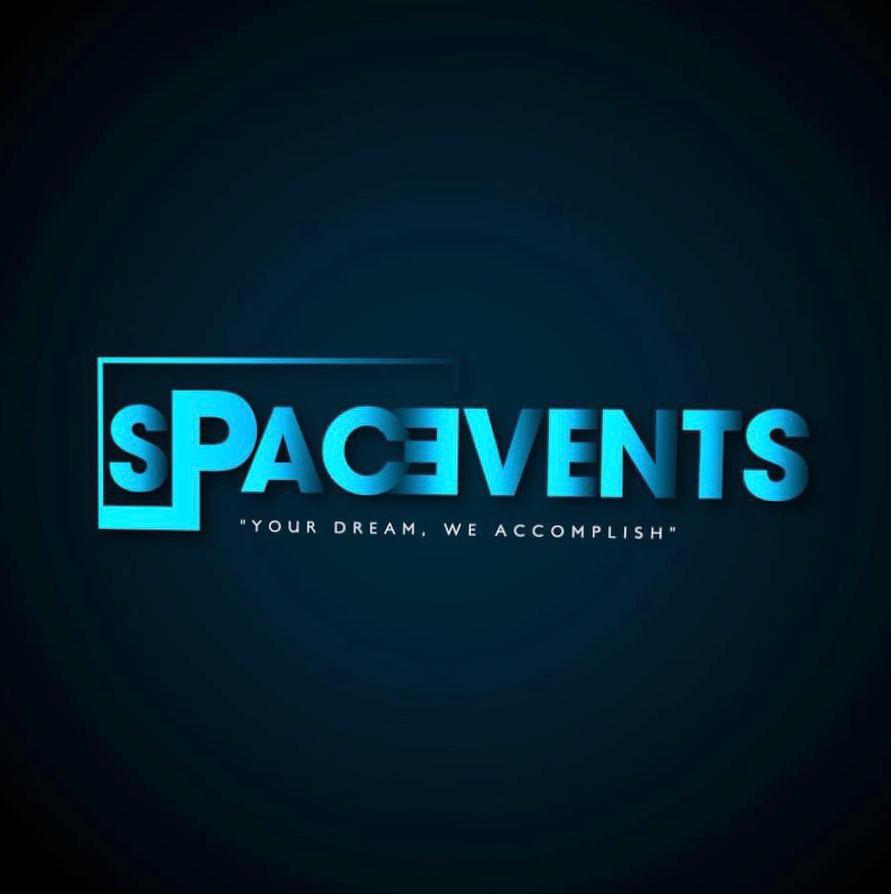 "Then, came the guy who entirely changed my life- Shreyas. Every time I spoke to him, there were butterflies in my stomach. I always felt happy and energetic after talking to him. Well, it's not what you're thinking. I had found the one who had a focus and a plan to start our event management company." Poornima did not forget her Anusha and quickly made her a part of their plan as well.
"Since Shreyas had the plan, we followed him without questioning. This is what put us in the biggest risk we had ever taken. We left our jobs and started SPACEevents. We were very excited and we called it "O womaniya." This was a platform for women entrepreneurs who could exhibit their talents.
They planned their first event and they believed that everything was going perfect but, all of a sudden, Poornima's father left her. She did not know what to do and she had no choice but to focus on her event. With Anusha's help they worked day in and day out. The next hit was when Shreyas and his friend backed off one week prior to the event. "We tried reaching them, but they switched off their phones for days. Anusha and I didn't know what to do, even posters were up everywhere. But we were determined to make this happen."
Through Kumar Dore, their college senior who was ready to host their event, they came in contact with his friend who introduced them to LaghuUdyogBharthi- who's vision and mission is to encourage women entrepreneurs. And yes, they did get in touch with a lot of women entrepreneurs.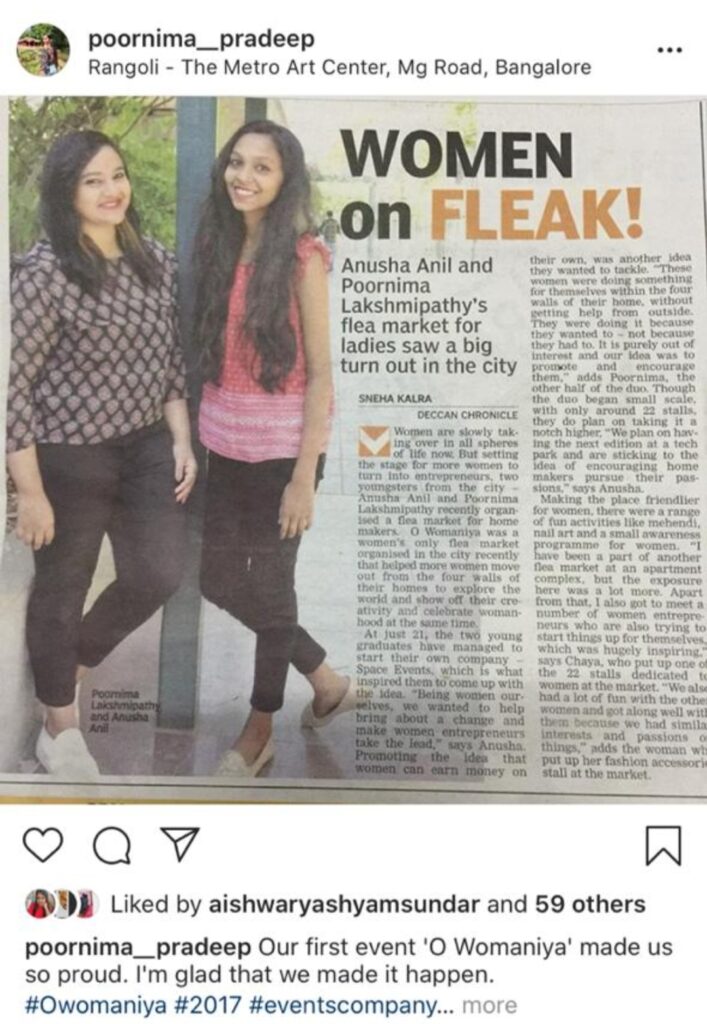 They had a team working for them and the next sudden shock was when the 5 of them met with an accident. "The car was smashed, we did not even have a scratch on us, but it did lead to blood clots on our hands legs and back. I was extremely disappointed, I had so many thoughts running in my mind. However, on the day of the event, I was surprised to have witnessed more than 30 stalls at MG road, boulevard with many women entrepreneurs. Many came in and gave business to these women entrepreneurs and our family and friends were proud of us."
-Tabitha Kumar