"My journey with Nature began in 2014-2015. I started with bird photography. After a year or so, I developed an interest towards butterflies, basically it was just for a very small reason. With bird photography you have to have binoculars and a camera with a lens which is expensive. Butterflies were much better and very interesting as those tiny little creatures can do anything that the human mind can't comprehend."
Geethanjali Raghunathan shares her journey of experiencing nature intently as a butterfly photographer.
A journey of a thousand miles begins with a single step and a friend who helps in making that move is a true blessing. Geethanjali says that one of her friend in nature photography helped her and they have a group called as Coimbatore Nature Society for birds and another one known as The Nature and Butterfly Society, this particular group concentrates on butterflies all over Tamil Nadu. "My friend introduced me to life cycles. So you basically collect the egg from the butterfly's host plant. Each and every butterfly will have their host plant, according to their family, their species and so on. So you take the egg along with the leaf where the egg is placed and then you wait for it to hatch." Geethanjali says that there are basically 5 stages called as instars where, these butterflies grow up. "So when they move from one instar to another they peel off their skin just like snakes and reptiles." Then they wait for them to reach the last instar after which they form the pupa. "Around 2 weeks after they form the pupa, the butterflies come out." Her friend Theivaprakasham Hari guided and helped her a lot during her journey and she says that even to this day he continues to help her.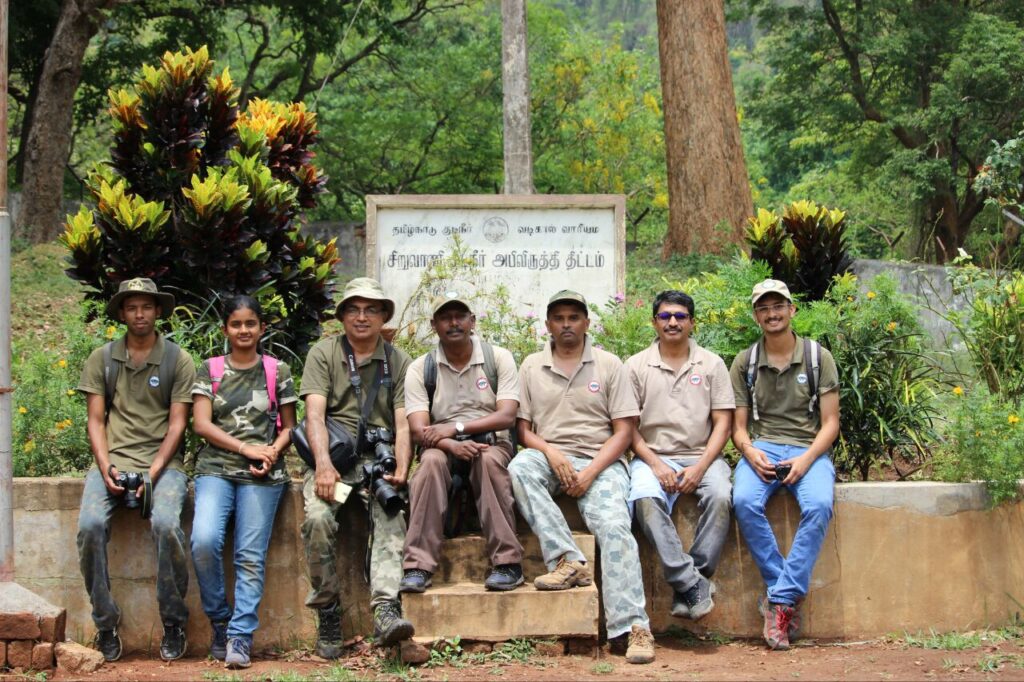 The earth has its music for all those who will listen and the more time you spend with nature, the deeper your understanding of life will be. "Every time, I look at a butterfly and look at how they perform their lively activities, it brings me very close to nature. For example, the adult butterfly lays eggs and it just flies off. It doesn't sit there and look after the egg. It leaves it to nature. It makes me understand how we are supposed to live a life. So that's my inspiration when I started to see these butterflies and observe them." A strong woman looks at a challenge dead in the eye and gives it a wink.
"The first challenge that I faced was me as a female. I have faced a lot of challenges in this field because once you enter the forest as it's a no network coverage area. It's just you and the members that you have gone with. You can never really have solo trips for this kind of observation. So that's really a big challenge for me."
Geethanjali says that when it comes to butterfly photography there are very minor challenges like waiting for the butterfly, being very patient, wait for many hours just to click a perfect shot of it. "The butterflies are very active, they keep flying. So we have to be very patient and we have to find a place where they sit and so we can approach them slowly ensuring that the butterfly doesn't fly off. I don't consider that as a challenge, I enjoy waiting for them to open their wings."
The only source of knowledge is experience and Geethanjali says that her experience till date has been amazing. "To be honest, that's where I find myself to be very happy. I think everyone should experience this. It's a step closer to nature and you can always feel the connect between you and mother earth." She advices us to have patience when it comes to nature and butterflies so as to observe them. "In this world we don't even have the patience to understand people. So it's difficult to have patience for our environment. Once you start understanding them through observation, you'll know the feeling.". Nature without learning is blind and Geethanjali, a 22-year-old woman also believes in learning a lot from it as she has gained some beautiful life lessons as well.
"First time I performed a life cycle of a butterfly I felt like a mother, to be honest. When I saw the butterfly coming out of the pupa so shiny and so colourful, it made me feel like a mother."
Geethanjali says that she took care of the caterpillar as a parent. "From the egg, to cleaning its poop. It's not a big deal but, it is something! 2 weeks and, out it goes. I patiently wait for the butterfly to come out with flying colors." She has also learnt from these caterpillars of how different ones eat in a different manner and so on. "Without butterflies, birds and bees this world can't survive. It's an actual research." With living beings like these visiting us, we are still breathing and moving ahead. And with these tiny creatures living in this world, we are all surviving. Photography is a love affair with life and, Geethanjali has shared a beautiful story of the most delightful creatures, butterflies.
-Tabitha kumar